Choose the best Marine Internet Options for Uninterrupted Connectivity
In today's connected world, having steadfast internet access is essential, even when you're out on the open waters. At Routica, we understand the significance of staying connected while liking your boating adventures. That's why we offer a wide range of cutting-edge Marine internet solutions. From mobile satellite internet for Marines to yacht Wi-Fi routers, we have everything you need to stay linked and make the most of your boating experience, we will explore the top marine internet options available, assuring you discover the perfect solution to meet your connectivity needs.
Stay Linked with Cutting-Edge marine Internet Solutions
Whether you have a small fishing boat or a spacious cabin cruiser, our marine internet solutions provide vessels of all sizes. Our range of routers and devices are optimized for marine surroundings, assuring reliable internet access through your boating ventures. Stay connected with family and friends, access important information, and enjoy online entertainment with ease.
Essential Features to Consider in Marine Wi-Fi Routers
For smaller boats, our marine Wi-Fi routers, named the Explorer 1 device, offer a compressed and well-organized solution to achieve your internet needs. These routers are designed to withstand the marine environment, providing consistent internet connectivity for your boating adventures. Stay connected, stream music, check weather updates, and access online navigation tools effortlessly.
Enjoy Freedom with Wireless Hotspot Devices for Marine
For those seeking flexibility and mobility, our wireless router for boats, named the Explorer 1 device, is the ideal choice. These portable devices enable you to create a Wi-Fi hotspot on your boat, letting multiple devices connect wirelessly. Stay connected on deck or take the device ashore for nonstop connectivity.
Here are some of the benefits of using a wireless internet for Marine device:
Wireless hotspot devices for boats are an excessive way to stay linked while you're on the water. These devices are portable and easy to use, and they allow you to create a WiFi hotspot on your marine, allowing multiple devices to connect wirelessly. Here are some of the benefits of using wireless hotspot devices for boat:
Flexibility: Wireless hotspot devices for marines are easy to use, so you can take them with you wherever you go.
Mobility: Wireless hotspot devices for marines allow you to create a WiFi hotspot on the go, so you can stay connected even when you're not near a marina or other Wi-Fi source.
Affordability: Wireless hotspot devices for marines are a more affordable option than traditional satellite internet.
Unlock the Power of Connectivity – Discover the benefits of Explorer I and Enhance Your Boating Experience!
Experience the advanced connectivity on your boat with our cutting-edge marines internet solutions. Whether you're sailing the seas or cruising along the coast, staying connected has not ever been simpler. Our range of high-quality marines Wi-Fi routers and mobile satellite internet options are crafted to satisfy you with uninterrupted internet access, ensuring you never miss a beat while on the water. Take advantage of our cutting-edge technology and elevate your boating experience to new heights.
Shop now and discover the perfect marine internet solution for your needs. Enhance your boating adventures with reliable connectivity, uninterrupted streaming, and simple access to crucial online resources.
Experience the freedom of staying connected while enjoying the open waters. Take the first step towards uninterrupted connectivity – shop now and unlock the power of connectivity on your Marine!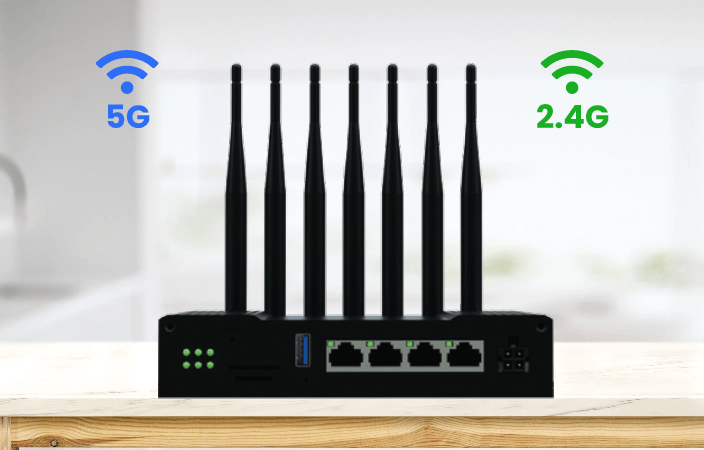 EXPLORER I Router Bundle Stay Mobile, Stay Connected
The Explorer I router is a high-performance, LTE-Advanced Pro vehicle gateway designed for Recreational vehicles, Marine crafts, and everyday consumer communications.
Our flagship router bundle, complete with accessories and antennas in one box. With three different modem choices and three antenna types, we have a product that suits all needs. Whether it's for individual, family, or enterprise connection needs, Routica helps you stay connected and stay mobile.
How it works?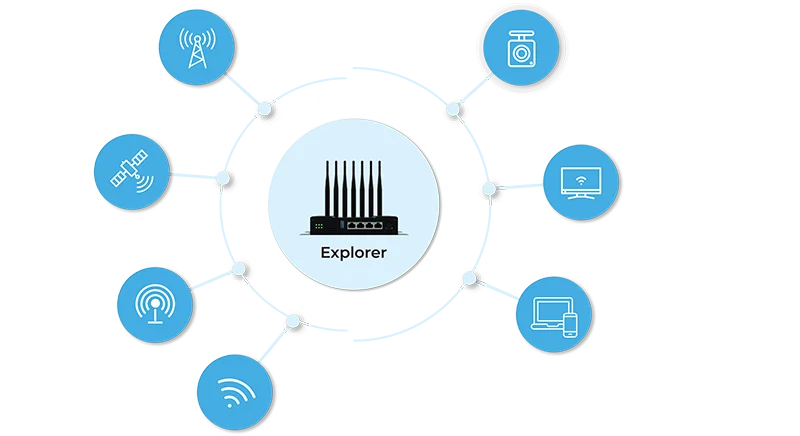 Reliable Wi-Fi as WAN hotspot

Secondary Wi-Fi radio allows you to setup a home Wireless Area Network for your devices to connect to. This leaves the primary radio dedicated to outbound connectivity while your devices connect seamlessly to the router

GPS location

Built-in GPS gives you peace of mind about your vehicle. Share your trips with loves ones and more
Easy setup with our mobile app

Quick Start setup app allows router configuration and setup easily

Dual Wi-Fi radios

Having a dedicated 2.4 GHz Wi-Fi radio combined with external antenna enables connections to hotspots from farther away. Additional 5 GHz Wi-Fi radio provides bandwidth for nearby devices.
Automatic switchover

Our system automatically switches between cellular and available saved Wi-Fi hotspots as they come in range, thus saving you cellular data





Ethernet connectivity

For more robust networking needs and applications

High speed

With LTE Cat-12 modem capable of up to 600mbps download and 150mbps upload speeds, our products offer some of the best speeds on the market for your connectivity needs

GPS based security

With GPS enabled security alarm features, you are notified if your vehicle is moved.