Connectivity: Choose the Right Internet Options for your RV
When it comes to RV internet options, there are numerous choices accessible to meet your connectivity on the road. One widespread option is mobile data plans offered by cellular network providers. These plans utilize the cellular network to provide internet access to your RV. With improvements in technology, cellular networks now offer faster speeds, allowing you to stream movies, participate in video conferences, and browse the web with ease.
Explorer I provide flawless internet options for RV. With its fast and consistent connectivity, you can stay linked with the world regardless where you are. Explorer I is also easy to set up and use, so you can be up and running in minutes.
Cellular Router for RV Explorers to Stay Connected on the Road
Explore the great outdoors with the cellular router for RV from Routica. Designed specifically for RV enthusiasts, our RV cellular router ensures a reliable internet experience while you're on the road. Driven by the robust LTE cellular network, you can enjoy fast and steady connectivity wherever your adventures take you. Say goodbye to unreliable campground Wi-Fi and stream your favorite shows, work remotely, and get consistent internet connectivity with family and friends from the comfort of your home on wheels. Experience the freedom of reliable internet access wherever your RV journey leads you.
Explorer I: Your Reliable RV Internet Solution
At Routica, we understand the sole needs of RV enthusiasts. That's why we have developed Explorer I, an innovative RV internet solution designed to address all your internet connectivity requirements. Unlike standard routers, Explorer I offer an array of features precisely tailored to improve internet for RV travel.
With Explorer I, you can stay linked and enjoy a consistent internet connection no matter where your RV takes you. Here are some key features of our RV internet solutions:
Significant Features of Explorer I
High-Speed Internet
Trip Sharing
Reliable Hotspot
Sentry
Easy Configuration App
High-Speed Internet
Fast and consistent internet connectivity on the go, letting you to stream, work, and get consistent internet connectivity with ease.
Trip Sharing
Share your travel plans with family and friends, keeping them up-to-date about your location and estimated arrival times, making it easier to stay connected and share your RV adventures.
Reliable Hotspot Router
Share your internet with additional devices, allowing your family, friend and loved ones to stay connected while on the move, ensuring accessibility for everyone.
Sentry
Get real-time warnings for unauthorized admittance or unauthorized movement of your RV, providing an added layer of security for satisfaction while you're away.
Easy Configuration App
Streamline the setup and configuration process with an intuitive app (Hyperlink), allowing you to easily manage your mobile router settings and customize your internet experience.
Utilizing the Mobile Router for RV
High-Speed Internet Connectivity and Internet Options for RVs
Explorer I use the countrywide LTE cellular network to deliver high-speed internet connectivity, even in remote areas. It means that you can stream movies, work remotely, and keep connected with loved ones no matter where your RV takes you. You can enjoy a consistent and robust internet connection during your RV journey. Our advanced signal amplification technology boosts weak signals, allowing you to stay connected even in areas with low signal strength.
Explorer I is the perfect solution for campers who want to stay connected while on the move. With its fast and consistent internet connectivity. Explorer I is also easy to set up and use, so you can be up and running in minutes.
Share Your RV Adventures with Explorer I
Explorer I from Routica is the finest RV internet solution that drives beyond providing internet connectivity for your RV or camper van. It also features trip sharing capabilities, allowing you to easily share your travel plans with your loved ones, keeping them informed about your whereabouts and expected arrival times. With its dual-band Wi-Fi technology, you can create two separate Wi-Fi networks, one for your devices and one for your guests, helping to keep your devices secure and your guests from slowing down your internet connection.
Explorer I: Your Reliable Hotspot Router for RV
Explorer I from Routica is a portable internet hotspot for RV It is planned to keep you and your nearest and dearest connected on the go. With its hotspot sharing feature, you can simply share your internet connection with additional devices, making it an appropriate solution for staying connected while traveling As an RV enthusiast, you know how important it is to have consistent internet connectivity wherever you go. Explorer I serve as your steadfast RV hotspot router, confirming that you have a consistent and strong internet connection through your adventures. Whether you're camping in a remote area or travelling new destinations. experience connectivity on your RV journeys with Routica's Explorer I, the perfect portable internet hotspot.
Sentry: Protect Your RV with Explorer I
Explorer I from Routica offers more than just RV internet connectivity. It structures an advanced alarm and security system, providing real-time warnings for unauthorized access or movement of your RV. Stay protected and connected with Explorer I, the ideal choice for full-time travelers seeking reliable internet solutions and enhanced security for their RV. We arrange your RV's security, which is why Explorer I encompass a unique Sentry feature. In the event that someone unauthorized moves your RV, you will receive instant notifications. With real-time location tracking, you can quickly locate your RV and take appropriate action, ensuring peace of mind through your travels.
Simple Setup with the Easy Configuration App
Gone are the days of relying on a laptop for basic router configuration. The Easy Configuration App, available for both iOS and Android, enables you to set up and manage Explorer I directly from your mobile device. Configure your settings with ease, customize your network preferences, and enjoy hassle-free connectivity on the go.
Internet for RV Campers
As an RV camper, staying connected while on the road is crucial. Whether you're working remotely, keeping in touch with nearest and dearest, or liking your favorite online activities, having consistent internet access is a must. At Routica, we understand the importance of staying connected throughout your RV adventures. That's why we offer top-notch internet resolutions tailored precisely for RV campers. Our internet for RV campers provides a seamless and reliable connection, ensuring you can access the digital world wherever you go. With high-speed connectivity and wide coverage, you can stream movies, join video conferences, and browse the web effortlessly. Stay connected, stay productive, and make the most out of your RV camping experience with Routica's internet solutions for RV campers.
Upgrade Your RV Connectivity with Routica's Explorer I – Stay Connected on Your Terms!
Experience the next level of connectivity in your RV with our top-of-the-line RV internet router solutions. Whether you're traveling on the open road or camping in remote locations, staying connected has never been easier. Our range of high-quality RV Wi-Fi routers and mobile satellite internet options are designed to provide you with seamless internet access, ensuring you never miss a beat while on your RV adventures. Take advantage of our cutting-edge technology and elevate your RV experience to new heights. Don't miss out on the opportunity to enhance your RV lifestyle with reliable internet connectivity. With Routica's Explorer I, you can stay connected, stream your favorite shows, work remotely, and share your travel experiences with friends and family.
Shop now and discover the perfect RV internet solution for your needs at Routica.com. Enhance your RV travels with reliable connectivity, seamless streaming, and easy access to essential online resources.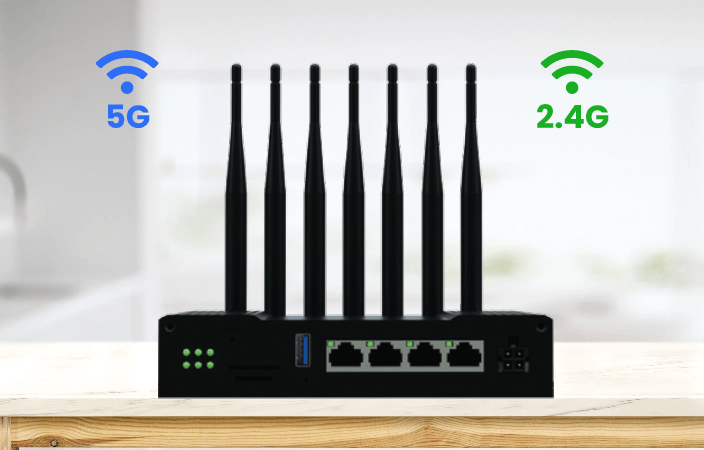 EXPLORER I Router Bundle Stay Mobile, Stay Connected
The Explorer I router is a high-performance, LTE-Advanced Pro vehicle gateway designed for Recreational vehicles, Marine crafts, and everyday consumer communications.
Our flagship router bundle, complete with accessories and antennas in one box. With three different modem choices and three antenna types, we have a product that suits all needs. Whether it's for individual, family, or enterprise connection needs, Routica helps you stay connected and stay mobile.
How it works?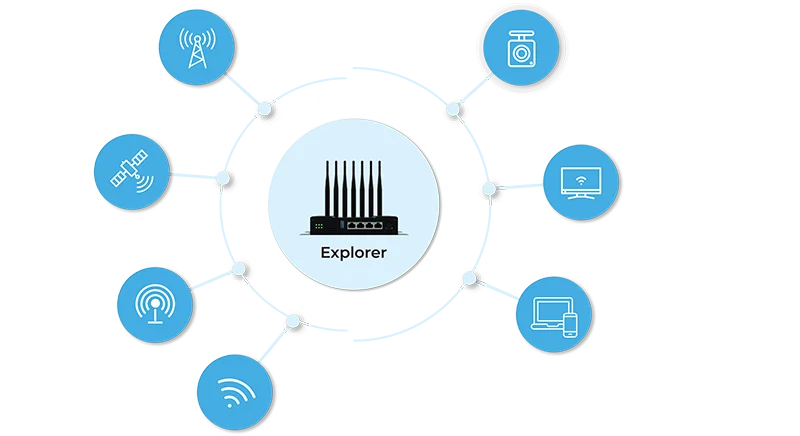 Reliable Wi-Fi as WAN hotspot

Secondary Wi-Fi radio allows you to setup a home Wireless Area Network for your devices to connect to. This leaves the primary radio dedicated to outbound connectivity while your devices connect seamlessly to the router

GPS location

Built-in GPS gives you peace of mind about your vehicle. Share your trips with loves ones and more
Easy setup with our mobile app

Quick Start setup app allows router configuration and setup easily

Dual Wi-Fi radios

Having a dedicated 2.4 GHz Wi-Fi radio combined with external antenna enables connections to hotspots from farther away. Additional 5 GHz Wi-Fi radio provides bandwidth for nearby devices.
Automatic switchover

Our system automatically switches between cellular and available saved Wi-Fi hotspots as they come in range, thus saving you cellular data





Ethernet connectivity

For more robust networking needs and applications

High speed

With LTE Cat-12 modem capable of up to 600mbps download and 150mbps upload speeds, our products offer some of the best speeds on the market for your connectivity needs

GPS based security

With GPS enabled security alarm features, you are notified if your vehicle is moved.